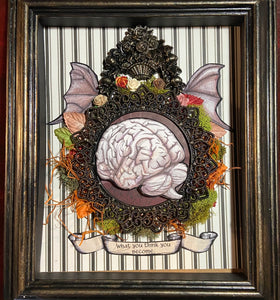 Thinking Brain Shadowbox
Quote in scroll reads "What you think you become." and is by Gautama Buddha. Brain, scroll and bat wings are prints of my original illustration. Round frame is painted metal. Rose piece at top is plaster. Cloth fall leaves and flowers, moss are embellishments. 

Dimensions: 10.25" w x 12.25" h x 1.5"d
There is a saw tooth hanger on back for wall mounting.